Post by Andrew Cramer on May 9, 2011 7:18:40 GMT -5
Just thought I'd pimp this project I'm involved in at the moment...
It's a graphic novel anthology collaboration between South African and Australian artists.
Check it out!

The 33 page preview is up
issuu.com/moray_rhoda11/docs/velocityfcbd
There are 2 pages of Half Past Dead in there (the story that I coloured. Artwork by Karl Mostert, Inks by Mike Crafford and Ryan Carolisen and story by Mike Crafford)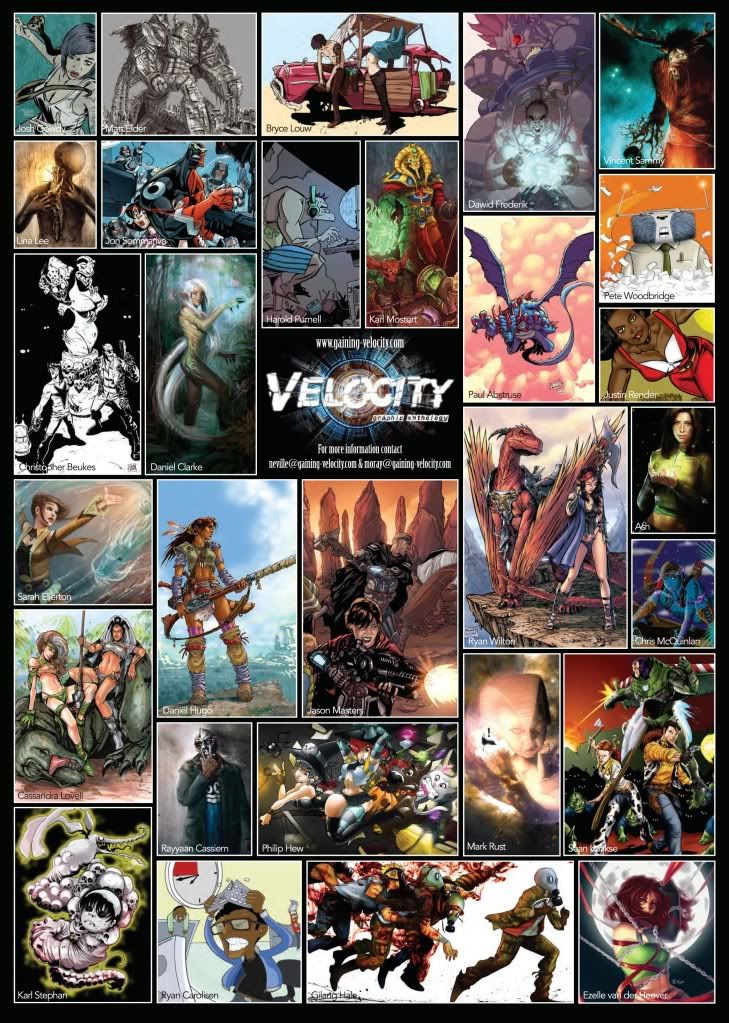 110 Pages
25 Artists
One kick-ass anthology.
Yes, we call it a graphic anthology, but it will be more than that. We are in actual fact going to be showing off.
We've quietly searched for, and acquired not only professional artists, but also the best up and coming talent to contribute to the first of our VELOCITY anthologies. We want to give these artists and writers a platform where they can let their creativity flow, without worrying about marketing, printing, publishing or distribution. They can sit down, and concentrate on the important stuff, putting their best work on paper, while resting assured that they will retain all rights to their stories, and receive full credit for their effort.
This book will after all not just be the best self contained short stories you can find, it will also act as a portfolio. A show of competence if you like, for each of the artists involved.
What can you look forward to?
110 pages, full colour, quality print. We promise a multitude of stories in diverse range of styles to suit all your needs. You like twisted? We got it! You like funny, we're all over it. Want to escape to another world? We'll show you the door!
We want to show the world the talent which lies within our borders. Borders? Yes, this Graphic Anthology will be the first of its kind, not just crossing state or provincial lines, but we'll be featuring 25 of the best artists Australia and South Africa has to offer! Twice the country, twice the fun.
So we're a few months away, but fear not, all the artists are welcome to show off character designs/sneak peaks of their stories, and will be discussing their progress
RIGHT HERE!
The countdown to the biggest self contained anthology book has begun, and we hope you're as excited about it as we are. Hold on to your dragons, it's going to be a rough flight!
Official Website
Gaining Velocity on Facebook
Gaining Velocity on DeviantArt
This is the project that Im involved with (colour duty)
In case you're wondering it reads 2 July 2011...